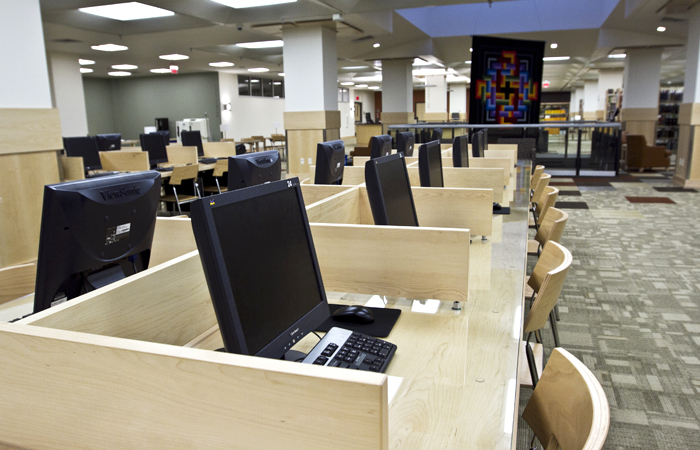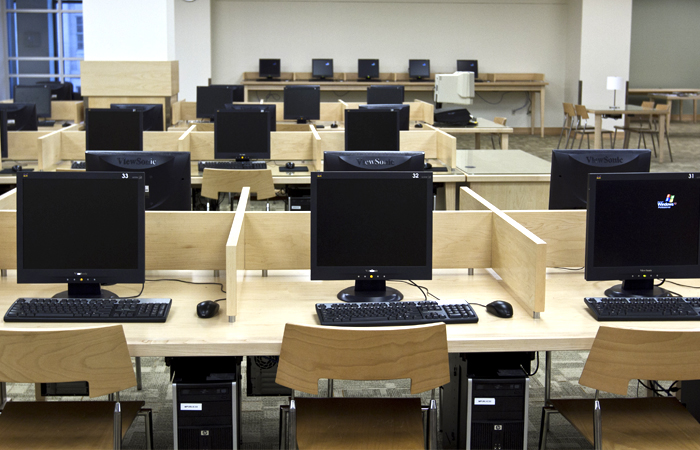 Account Information
Computer and Wireless Internet Policies
Public Computers and Technology
Be our guest. Anyone is allowed to use our public computers. Library cards are not required, but definitely encouraged!
Every Peoria Public Library location also offers unlimited, free WiFi within our buildings.
Important Note
Peoria Public Library cannot control all content available through the internet even with technology we've installed to filter obscene and illegal websites.
Filtering software is not a substitute for parental supervision, and library staff is not responsible for monitoring a minor's use of the Internet.
Quick Facts
• All five Peoria Public Library locations have public computers available for anyone to use. No library card necessary, but definitely encouraged! You will have to show a photo ID for access.
• Computer usage: 60 minute initial session length.  Extra time (if no one is waiting) will be granted in 15-minute increments with a maximum extra time of 30 minutes.  Limit of 90 minutes maximum per user per day.
• Computers and WiFi are available anytime we are open, but shut down 15 minutes before closing.
• Computer memories are reset after each user so no information is saved. Please bring a USB flash drive to save your work or purchase one from us for $5.
• You can print from any of our public computers, 10 cents per page.
Computer Programs Currently Available
Each public computer at Peoria Public Library currently has the following installed programs:
• Microsoft Office suite – Outlook, Excel, Word, PowerPoint and Publisher
• Adobe Reader
• Internet Explorer and Chrome
Scan, Fax or Copy
Every Peoria Public Library location can make black-and-white copies for a small fee, but only Main Library has a full-color copier, scanner and fax machine available for public use. McClure Branch also has a fax machine for public use.
Main Library, Second Floor
• Full-color copier
10 cents – black and white, 8.5 x 11 page
30 cents – black and white, 11 x 17 page
50 cents – color, 8.5 x 11 page
70 cents – color, 11 x 17 page
• Scanner – no fee
• Faxscan 24 machine. $1.75 first page, $1 each additional page
Expectations for Use
Library patrons must use all our technology within the guidelines of acceptable use listed, in part, below. For our complete computer and wireless internet policies, click here.
Violation may result in the loss of library privileges, and illegal acts involving the Library's equipment may be subject to prosecution.
Peoria Public Library complies with the Children's Internet Protection Act (CIPA).
Unacceptable use includes, but is not limited to:
• Use of public computers in any way that violates Federal, State or Local law
• Destruction of or damage to equipment, software or data belonging to the Library or other users
• Unauthorized duplication of copyright protected material or violation of software license agreements
• Violation of system security, including downloading software
• Behaving in a manner disruptive to other users