Norman Kelly Stories
Local Historians have wonderful stories to tell. Our talented local writers and researchers often find gems of local history that have escaped being chronicled. Here are a collection of essays that will reveal little known facts about Peoria and its history.
Click on the links below to read the full stories by Norman Kelly.
Norm Talks About Old Peoria
The Coliseum and The Armory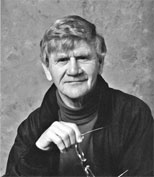 Norman V. Kelly
Norm is a local historian and author who most recently wrote a story entitled, "The Mystery of the Missing Manuscript" for The Big Read Peoria Reads which incorporated local history into a story about the 2009 book choice The Maltese Falcon. His book, UNTIL YOU ARE DEAD, detailing all of Peoria's executions is available in the Peoria Public Library. Much of his writing comes from his real life experiences as a private detective in Peoria. Norm welcomes your comments and questions and can be reached at norman.kelly@sbcglobal.net